Back at the end of August we worked with top Norwegian events company, KITE, providing the UK partnership arm to their event hosting a fabulous three-day 'English Adventure' weekend for 480 guests from a Norwegian tech company in Oslo.
After 5 flights into 4 airports, a summer BBQ arrival party in each of the three hub towns, Windsor, Henley and Oxford, accommodation across 11 hotels in the three towns on the first night, 25 activities on the Saturday, an Edwardian Ball at the University Museum of Natural History, accommodation in 3 Oxford colleges on the second night, a finale event at Oxford Town Hall and then five return flights on the Sunday, our mission was complete!
It's quite a feat to cram everything that happened that weekend into one fun blog post, so we're going to give an overview and then post future blogs focusing on specific parts of the event.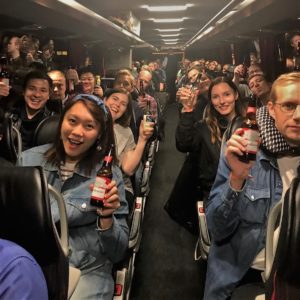 After months of endless planning, preparation, meetings and site visits, the day when 480 Norwegians arrived was upon us. After some efficient airport transfers from Stewarts Coaches, guests arrived at their evening summer BBQs on the Friday, at Oakley Court for those staying in Windsor, Greenlands Business School in Henley and the Oxford Thames Hotel. These wonderful summer garden party style evenings were a super start to their English Adventure on the River and their introduction to the Thames Valley.
Spread across 11 hotels on Friday night; four in Windsor, five in Henley and two in Oxford, guests enjoyed a plethora of activities on Saturday – 25 to be exact! Lots of fun and games organising transfers, lunches and logistics! Pre-chosen before their arrival, these included Painting by the River in Oxford, riding in Windsor Great Park, tours of the three towns with visits to Windsor Castle and Christ Church College, cycling to Oxford from Windsor and Henley, Stand-up Paddle Boarding, boat cruises on the Thames, learning how to play Rugby and Cricket, and many more. (We will be writing about these on the blog in due course!).
The whole group then descended on the dreamy spires of Oxford for the rest of the weekend. Maintaining the flowing river theme by staying close to the Thames, guests were based at three colleges; St Anne's, Queen's and Pembroke. On Saturday night an Edwardian punk style Ball rocked into town at the University Museum of Natural History. What a venue!!! And what a location for this party! With dinosaurs greeting guests, colourful fancy dress, vintage circus acts, a mix of entertainment acts, photo-booth and DJs to keep everyone on their feet, this was a night like no other and a great way for our client to celebrate.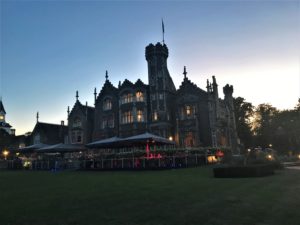 We bid farewell to our guests on Sunday with a university college themed graduation at the Oxford Town Hall. Actors took to the stage to tell the weekend's stories – accompanied by much laughter and reminiscing!
This was a fabulous event for LCE. The team on site and those who assisted in the pre-event organisation were invaluable. I am incredibly proud to have had each and everyone one of them with me. It was duly noted by the Norwegians what a great team we had – so here's to more successes in 2020!