5 November 2020
Introducing the wonderful Woodchester Valley Vineyard
In light of my recent announcement of providing wonderful Cotswold wine and cheese tasting experiences, I caught up with the fabulous Aaron from Woodchester Valley Vineyard, who are providing all the amazing wines, and asked him about his role, why white wine and cheese totally go together and how UK wine is the best in the world!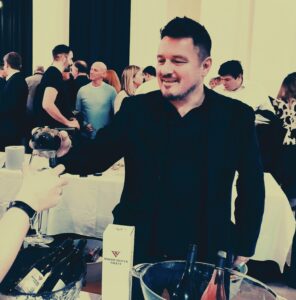 Please can you tell us a bit about Woodchester Valley Vineyard (WVV) and your role there? 
WVV was founded in 2007 by Fiona Shiner. She had long been fascinated by the valley's popularity with Roman nobility (the site of the Roman Governor of Western England's villa was just a couple of hundred metres from our Upper Atcombe farm vineyard). The family owned a 10-acre field on Culver Hill which was not really suited to crops, so she decided to plant an acre of vineyard as a trial. The inaugural 2010 vintage was a success and the first wine was a rather excellent Bacchus (still tasting good a decade later!). She then proceeded to plant the rest of the Culver Hill vineyard and set about searching for viable sites in the area. We now have 56 acres of vineyard, our own winery and full-time winemaker, Jeremy Mount.  
I run Trade Sales – and it may just be the best job in the world! I get to meet and taste wine with  so  many lovely, passionate people in the  drinks and restaurant trade. I joined at the start of 2019 when the wines from our first bumper vintage, 2018, were ready for release. Most of the wines made had been sold via the website, shop or tasting room, but the time was right to offer them out to the trade. By chance a master wine friend was consulting for WVV and told me how great the wines were. From  the moment I set foot in the vineyard I was in love. The 'terroir', if I can pinch a French term, is exceptional and quite unique in the UK. When I tasted the wines, I was absolutely sold. I thought on that first day, and continue to believe, that the wines we are making are absolutely world class – as was proved by our Sauvignon Blanc 2018 winning one of only 10 gold medals awarded worldwide in the Sauvignon Blanc Masters Competition out of several thousand wines from around the world.  
Could you tell us a bit about the wines that I will be supplying? 
Orpheus Bacchus 2018 - One of our most talked about wines to date (and our best Orpheus Bacchus yet!). Made from our very best parcels of Bacchus grapes, it is a unique expression of Bacchus from some of our oldest vines. The Orpheus is a wine of great finesse, a limited range only made in selected years. A combination of whole bunch and de-stemmed fruit was pressed in an inert environment preserving the aroma and flavour precursors to create a concentrated well balanced expression of the Bacchus variety. This wine displays complex and well-integrated flavours of elderflower and lychee with defined minerality and excellent persistent length and mouth-watering finish.   
Cheese Match – Goats Cheese 
With its vibrant acidity and freshness this is perfect for a complex local goats' cheese, cutting through the richness of the cheese but matching the citrussy, tangy notes. 
Culver Hill 2018 - *IWC Silver medal winner 2019* Enticing  notes  of crisp and refreshing citrus and green fruits are beautifully balanced with subtle peach and hints of minerality. The barrel fermented Ortega gives great texture and balance.  A delicious, dry white with a clean and pleasing finish. 
Cheese match – a little secret of ours….. a beautiful cheese produced very locally to the vineyard
The slight creaminess from the barrel fermented portion works nicely with the nuttiness of the rind, while the fruity notes of the wine match those of the cheese and the acidity cuts through the creaminess and leaves the palate feeling clean and fresh 
Cotswold Classic 2017 Sparkling - Silver Medal, Wine GB – A blend of 75% Seyval Blanc and 25% Pinot Blanc with fresh citrus notes, aromas of red apple and subtle stone fruits, this wine has a great mid-palate structure and a balance that is nicely rounded with good effervescence. The lees ageing brings some aromas of pastry and brioche reminiscent of a delicious apple pie.   
Cheese match – Mature Cheddar 
A surprising match that really works! The appley notes match the tangy crunch of the cheddar and the vibrant sparkle cuts through its palate coating creaminess   
Rosé Brut 2017 Sparkling - Gold Medal Wine GB – A charmingly well balanced sparkling rosé with delicate bubbles. This wine maintains subtle raspberry and toasted aromas which follow through and linger on the palate. 
Cheese match – Creamy Blue 
Sounds totally wrong but works beautifully. The berry notes of the rosé are brought to the fore by the tangy, gaminess of the blue and match seamlessly, then, again, the freshness and acidity leaves the palate fresh and clean.  
There is a preconception that red wine and cheese go together but here you have paired white wines – please can you tell us why they work just as well, or even better? 
Have you ever tasted a wine with cheese and found that the cheese made the wine taste thin and the wine made the cheese taste fatty? The idea that red wines and cheeses are perfect partners is seldom borne out by experience. I much prefer to counterpoint the richness of a cheese by pairing with a fine, elegant white. Our still and sparkling whites and rosés have a gorgeous, perfectly balanced acidity which cuts through the intensity of the cheese and leaves the mouth feeling fresh and ready for the next mouthful. I have been tasting (and drinking) cheese with white and sparkling wines a lot recently and have found some incredible and memorable combinations – mature cheddar (the crunchier the better) is brilliant with our Cotswold Classic sparkling for example – the crisp apple notes in the wine match the cheese beautifully and the crunch and sparkle are amazing when combined – and as I have already mentioned, the wine leaves your palate feeling fresh, gently tingling and ready for the next mouthful.    
How do you feel the UK wine industry is at the moment? Is it growing? Is it still seen as a novelty having a vineyard in the UK? 
The UK vineyard scene is vibrant, exciting and constantly evolving. People who were saying 5 years ago that the UK should only make sparkling wines are now admitting that we can make world class still wines as well. Everyone in the industry is competitive in the best possible way. Spurring one another on to new heights, sharing new knowledge and techniques and really  working together. The public are fascinated by the surge in local vineyards and our tastings and tours are often sold out months in advance. For decades vineyard visits were something you could only do abroad – no longer! 
Also, restaurants are becoming more open to UK wines. Two years ago, I was often told 'We already have an English wine on the list'.  
To which I would respond with "Good… and how many French wines do you have? Can we look at replacing one of those?". 
However, I was delighted recently to be approached by a sommelier  saying, "We don't have any Cotswolds wine on the list!" – they had a UK wine section on the list with  wines from Cornwall, Devon, Sussex etc. That really put a smile on my face.  
Do you have a favourite current wine? And if so, why? 
Our Orpheus Bacchus 2018 is my current favourite. I've always been a fan of Loire valley whites – especially Pouilly Fumé which it  resembles more than a little – but with added Cotswolds elegance. I'm also a little bit obsessed with high altitude Spanish Garnacha-based wines from the Sierra de Gredos region – amazing and hauntingly fragrant stuff. 
What has been your best wine moment?  
I've been fortunate enough to have tasted many great bottles, but that's often simply an exercise in intellectual appreciation. It's the context that  really makes the moment. And the best moment has  to be toasting my beautiful wife with an English Sparkling Wine at our wedding in 2003 – it was a Ridgeview Blanc de Noirs 1999 by the way.  
Who would be your ultimate wine drinking companion (dead or alive!)? 
Definitely someone alive. Honestly, I'm not hugely impressed by celebrity, but I would like to share a glass or two with Maynard James Keenan – frontman of the great math-rock band TOOL. He makes some superb wines in Arizona – at totally the opposite end of the climate spectrum to what we have here in the UK; he's also  by all accounts a thoroughly decent guy and intensely passionate about music, wine and food – very much my kind of person.