21 November 2018
Our Top Five BEST FESTIVE MUST-DOS IN LONDON 🎉
With the Festive Season now upon us, if you haven't already got your celebration pinned down then do give us a call to chat through your requirements. But, if you are still looking for some sparkling inspiration, either for yourself or for your office, perhaps one of these suggestions might take your fancy…
Best Skating Rink – Somerset House
Our all-time favourite skating rink must be Somerset House! The stunning Edmond J. Safra Fountain courtyard provides a stunning backdrop to the most beautiful ice rink in London. We're actually popping in for a skate this week to get the festive feelings flowing! And it's not just the enormous skating rink we're looking forward to, but the après-skate at Fortnum's Lodge with a drink and warming snack while taking in the spectacle rink-side. Fortnum's Christmas Arcade is returning to transform the West Wing into a one-stop, essential festive shopping destination. We can get a few prezzies ticked off the list too! This winter, Skate Lates are also making an appearance for an experience unlike any other in London. You will be able to skate and enjoy the music for the perfect start to the weekend with DJ Emily Rawson and Rock the Belles crew, Rinse FM and Ransom Note, to name a few. Book now until 13th January.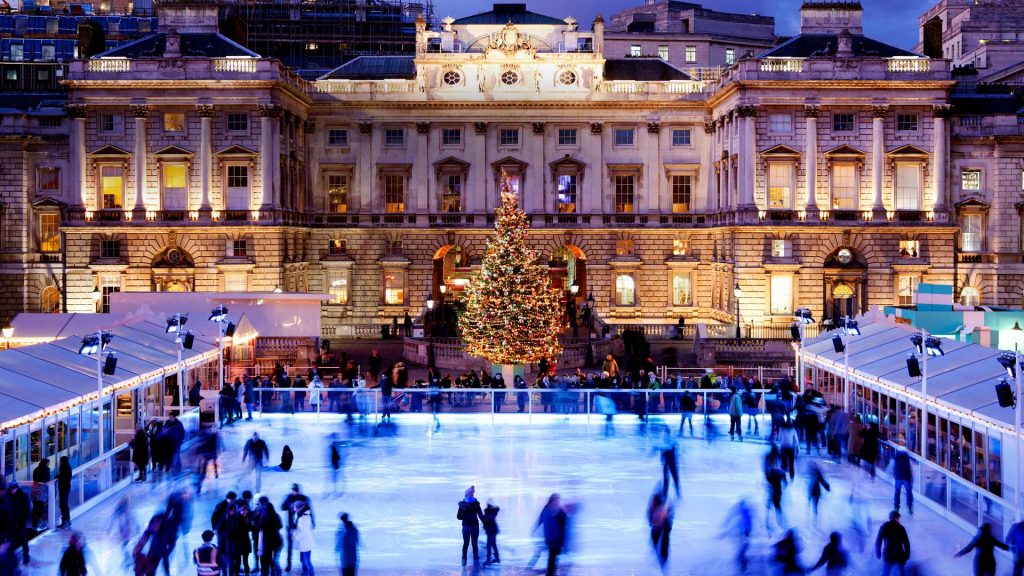 Best Spot for Christmas Cocktails – The Sanderson Hotel
We can't wait for the Sanderson Chocolate Factory to open next week on 27th November at this five-star luxury boutique hotel just steps from Oxford Street. Willy Wonka and his Chocolate Factory, and all its sweetness, is the go-to theme for an indulgent Christmas this year. The famed Long Bar is being spruced up with overflowing vintage jars and psychedelic swirls, whilst the floral ceiling feature is being decked with giant candy canes, golden tickets and colourful ribbons. Tasting is a key to Willy Wonka's success. Sip on Wonka's Martini, a mix of Grey Goose vodka, Eager apple juice, green apple and lemon, or try a Glop Glop – a concoction of Mozart dry chocolate vodka, Briottet orange liqueur and Lillet Blanc vermouth. What more could you want for some fun, festive staff drinks this Christmas?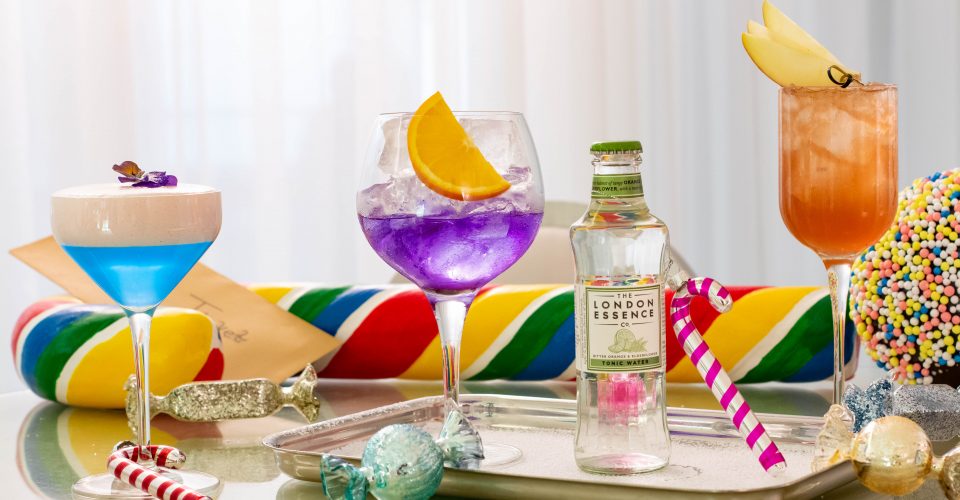 Best Igloos – Coppa Club Tower Bridge
Thames-side Coppa Club launched these fantastic igloos two years ago, and they are now an institution. Others are popping up all over London, but these are still head and shoulders above in our book! Providing the perfect respite from the biting cold outside and a beautiful, dreamy spot, you can enjoy table service to your little cocoon from the extensive menu of European Classics in your snug pocket of warmth and hospitality. Drape a sheepskin rug over your lap, adjust the heat and order another glass of wine as bookings open on Wednesday, 21st November!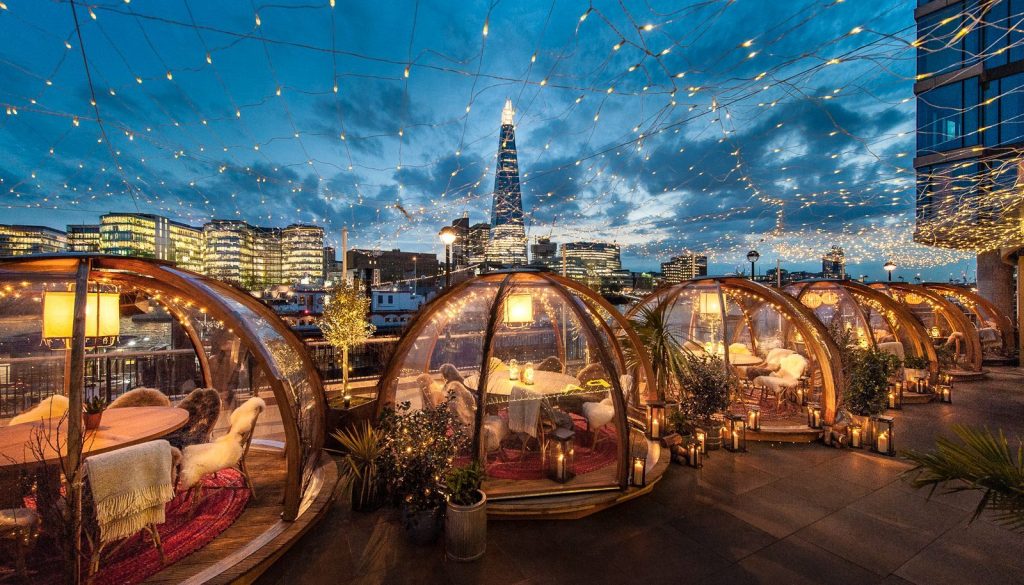 Best Festive Restaurant – Dalloway Terrace
The Bloomsbury Hotel is a place you'd naturally expect to find beauty, and of course Dalloway Terrace has always been its pièce de résistance. Having just undergone its annual make-over, the Terrace is all set for winter as the year draws to a close. Roll on the fur rugs, the warming cocktails and the truffle cheese fondue! Roll on winter! Open for breakfast, brunch at the weekends and all-day dining, this fully heated, fantastic terrace restaurant offers the peace and charm of a secluded secret garden during the winter months. Ideal for cocktails and dinner with a friend, enjoy the delightful luxury.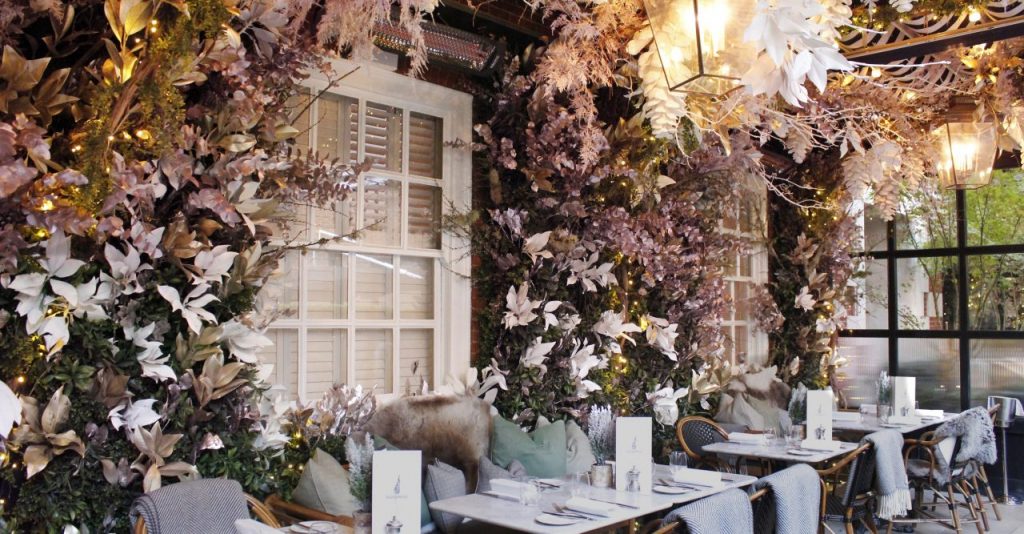 Best Bit of Quirky Fun – The London Shuffle Club
Now in on the terrace action, the London Shuffle Club is bringing s'mores to Shoreditch with their Winter in S'moreditch Terrace. As well as the obligatory shuffle boarding, the covered terrace will be specially designed with winter parasols designed to keep the elements out and the warmth in. Hire a booth with its own fire pit and toast your own delicious s'mores, ingredients for which will be provided! Add to that some faux fur rugs, alpine comforts and a bunch of amazing hot cocktails from the Airstream bar and you're in for a Winter experience like no other.
And if you're a little unsure of what this shuffle boarding is all about, don't worry – it's simple! Floor shuffleboard is played on 'lanes' by two teams, with players using a 'tang' and a 'biscuit'. A tang is a long stick with a fork on the end. You use the tang to push the biscuit, which is a disc, along the floor into a scoring zone. Using those tools, teams play a number of rounds. The team with the highest number of points at the end wins. Simple and fantastic fun!